Year-Over-Year Stats

---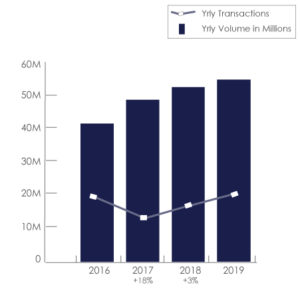 From 2010 - 2018 Pearson Realty Group has completed over 2000 transactions, resulting in a total volume of $430 Million. We have steadily increased our market share every year since we have been in business, leading to high exposure through online marketing, advertising, signage, direct mail, and email campaigns. What does this mean for your home? More exposure leads to higher page views, an increase in showing requests and a shorter market time for your home.

The above stats show Pearson Realty Group's approximate yearly volume for completed REO, Short Sale, and Traditional transactions. Among other Chicagoland brokerages, our brokerage consistently ranks in the top 2% for completed REO transactions and ranks in the top 8% for completed short sale transactions.
---
Our History
Broker/Owner and Founder of Pearson Realty Group, Kirby Pearson, grew up in the construction/real estate business.
After graduating with a Finance degree from the University of Wisconsin, he built a successful commodity brokerage firm owning seats on the Chicago Board of Trade CME. KGP Inc. was one of the largest treasury futures brokers at the Chicago Board of Trade doing business for the majority of large brokerage firms, banks, and hedge funds. During this period Mr. Pearson bought and sold distressed properties.
In late May 2009, Pearson Realty Group moved from the Chicago Board of Trade CME to its current location. Now, Pearson Realty Group is a full-service real estate brokerage firm serving Cook County and various surrounding suburbs.
Pearson Realty Group has since become one of the most innovative and technically advanced real estate brokerages in Chicago. In 2013, our REO team ranked 21st in the nation for transactions as stated by a Real Trends The Thousand article, published in the Wall Street Journal. This accomplishment set Pearson Group's team first in Chicago for the number of transactions completed per year.
---